Affordable Clear Aligners - Day and Night Options by SMILEIE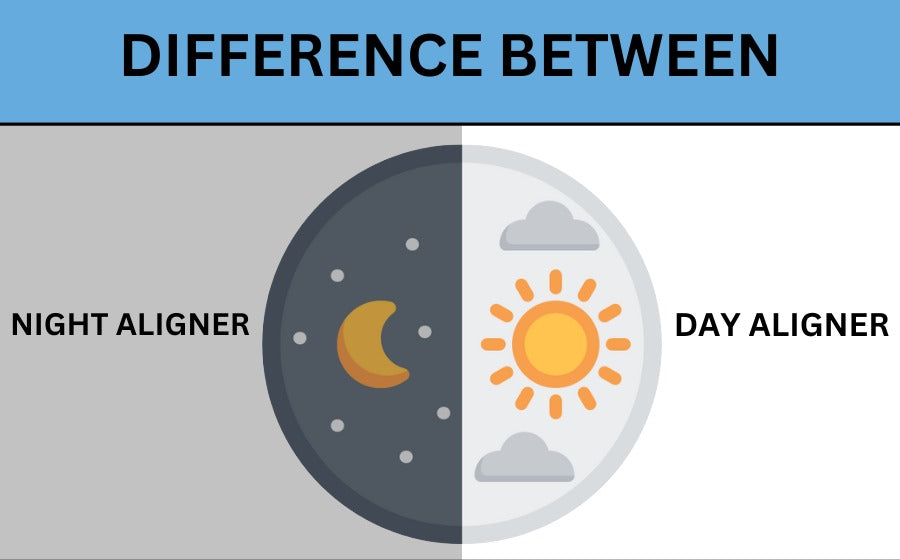 Are you looking for an affordable and effective way to achieve the smile of your dreams? Look no further than SMILEIE, the leading clear aligner company in the USA. We take pride in offering high-quality aligners that are manufactured right here in the USA. With our innovative day and night aligner treatments, we can help you achieve a straighter smile conveniently and comfortably. In this blog, we will explore the features, advantages, and affordability of both our day and night aligner treatments, so you can make an informed decision about transforming your smile.
Understanding Dual Arch and Single Arch Aligner Treatments:
At SMILEIE, we offer two types of aligner treatments: dual arch and single arch. Dual arch aligner treatments involve aligners for both your upper and lower teeth, ensuring comprehensive teeth straightening. On the other hand, single arch treatments are designed to address the alignment concerns of either your upper or lower teeth. By offering these options, we cater to the unique needs and preferences of our customers.
Clear Aligners for Teeth Straightening:
Day Aligner Treatment:
Our day aligner treatment is designed to fit seamlessly into your daily routine. With these clear aligners, you can comfortably go about your day while your teeth gradually shift into alignment. Here are five advantages of our day aligner treatment:
Discreet and virtually invisible: SMILEIE's day aligners are virtually invisible, allowing you to straighten your teeth without drawing attention. This makes them an excellent choice for professionals, students, and anyone who prefers a discreet orthodontic solution.
Enhanced comfort: Our aligners are made from smooth and flexible BPA-free plastic, ensuring a comfortable fit. You'll hardly notice you're wearing them as they gently and gradually move your teeth into the desired position.
Convenient and time-efficient: Day aligners are worn for approximately 20-22 hours a day, giving you the freedom to remove them for eating, drinking, and oral hygiene. This flexibility allows you to maintain your regular routine without significant disruptions.
Faster treatment duration: Our day aligner treatment typically offers a faster treatment duration compared to traditional braces, with an average treatment period of 6-9 months. This means you can achieve your desired results sooner and start enjoying your beautiful smile.
Affordable pricing and flexible payment plans: We understand the importance of affordability when it comes to orthodontic treatments. That's why SMILEIE offers competitive pricing, with our day aligner dual arch treatment starting at just $849 and single arch treatment at $699. We also provide convenient monthly payment plans to make achieving your dream smile even more accessible.
Night Aligner Treatment:
If you prefer a more relaxed approach to teeth straightening, our night aligner treatment is the perfect fit for you. Designed to be worn while you sleep, these aligners efficiently correct your teeth alignment. Here are five advantages of our night aligner treatment:
Easy incorporation into your routine: Night aligners are worn for a recommended duration of 8-10 hours every night, making them a convenient option for individuals with busy daytime schedules. Simply put them on before going to bed, and let them work their magic while you sleep.
Minimally invasive: Our night aligners gently exert pressure on your teeth, gradually guiding them into proper alignment. This approach ensures minimal discomfort and allows for a more relaxed teeth straightening experience.
Uninterrupted daytime routine: By wearing night aligners while you sleep, you can maintain your regular activities throughout the day. Whether it's working, socializing, or pursuing hobbies, your aligners won't interfere with your daily routine.
Comprehensive treatment: Night aligners are effective in addressing a wide range of alignment issues, including crowding, spacing, and mild to moderate bite problems. You can trust that our aligners will deliver remarkable results for your smile.
Competitive pricing and payment options: SMILEIE's night aligner treatment offers excellent value for money, with dual arch treatment starting at $1049 and single arch treatment at $799. We also provide affordable monthly payment plans to suit your budget and make your dream smile attainable.
Experience the SMILEIE Difference:
By choosing SMILEIE for your clear aligner treatment, you gain access to a host of additional benefits that set us apart from the competition. With every aligner package, you'll receive a free impression kit to create accurate molds of your teeth, a 3D treatment preview to visualize your future smile, 2 free sets of retainers to maintain your results, a free teeth whitening kit to enhance your smile's brilliance, and free refinement options to ensure you're satisfied with your outcome.
Conclusion:
With SMILEIE's day and night aligner treatments, achieving a straighter smile has never been easier or more affordable. Whether you prefer the convenience of day aligners or the relaxed approach of night aligners, our high-quality aligners, manufactured in the USA, will help you achieve the smile you've always desired. Don't wait any longer—take the first step towards your dream smile by choosing SMILEIE as your trusted clear aligner provider. Visit our website today to learn more and begin your journey to a more confident, beautiful smile.