Leanne Robert's journey toward self-confidence and a better smile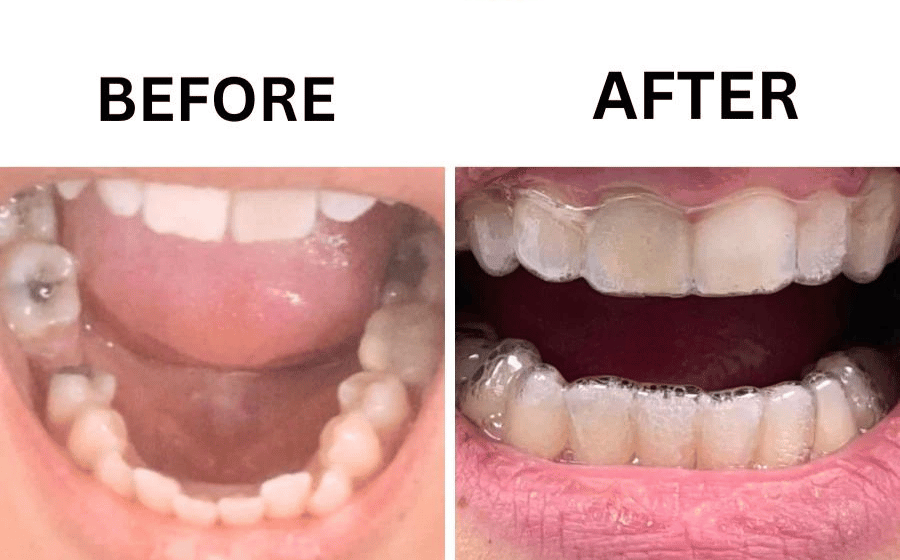 If you're seeking an alternative to conventional braces that can straighten your teeth without discomfort and inconvenience, look no further than invisible aligners. SMILEIE, a top-rated at-home invisible aligners brand, provides reasonably priced, cozy, and efficient invisible aligners that can meet your needs.
However, what are the experiences of actual customers who have used SMILEIE invisible aligners? Let's take a look at Leanne Robert's journey with SMILEIE invisible aligners.
Introducing Leanne Robert, a highly valuable member of the Smileie community. Like many of our other valued customers, Leanne was seeking an affordable and convenient alternative to traditional wired braces for teeth straightening. Fortunately, she discovered our services and has since embarked on a memorable journey with us.


Her Journey With SMILEIE?
Leanne discovered our website and was impressed by the excellent customer reviews on Trustpilot, praising the service and affordable payment plans. She reached out to our customer support team and was pleased with the prompt, friendly, and professional assistance she received. After confirming all the details, she decided to give it a try and began her journey towards straightening her teeth.


30 Seconds Assessment
After conducting extensive research and comparisons between different providers of invisible aligners and their payment plans, she opted to commence her teeth straightening journey with Smileie. This decision was based on the affordability of their clear aligners and their excellent customer service. Her initial step was to complete a free 30-second smile assessment.
Impression Kit
Following a satisfactory free assessment, she decided to order an impression kit to take her dental impression from home. The kit, which arrived in a dream smile box, contained impression putty and trays, a cheek retractor, disposable gloves, and a prepaid shipping label. She utilized the kit to take her impressions and mailed them back in the same box using the prepaid postage.

3D Treatment Preview
After receiving her impressions, our team of specialized orthodontists designed a personalized treatment plan for her and presented a comprehensive preview of the expected before-and-after results of the clear aligner treatment. This provided her with a clear understanding of how her teeth will gradually become straightened by the end of the treatment.
Our expert dental team assured that if she wasn't a good fit for an aligner treatment, we would have refunded 100% of the amount paid to us by her. Thankfully, that wasn't the case and we got started on creating her perfect future smile.
Aligners On The Way!!!
After embracing her new smile, she began using clear aligners to shift her teeth into the desired position. Initially, she was anxious about the discomfort associated with the first aligner, despite reading reviews that claimed otherwise. However, she was pleasantly surprised to find that it fit perfectly without causing any irritation or discomfort typically associated with traditional metal braces. This experience reassured her that her investment in Smileie Aligners was a wise decision.
Don't just take our word for it, read what satisfied customer Leanne Robert had to say about the amazing smile transformation :)

"I have completed my journey with SMILEIE, I am so happy with my results! Highly recommend to anybody who is looking for teeth straightening treatment. :)"


"Want To Know More About SMILEIE" 
SMILEIE is not a typical at-home aligner brand; it offers customized solutions that suit your unique dental structure. Unlike traditional braces that are uncomfortable and require frequent visits to the orthodontist, Smileie products are more convenient, affordable, and comfortable to wear.
In addition to saving you time and money, Smileie has a team of experienced professionals who ensure that you receive high-quality products, resulting in a bright and perfect smile. Furthermore, Smileie customer service is exceptional, with dedicated representatives available 24/7 to help you with any questions or concerns you may have.
We also provides dedicated Smileie Patient Portal to track the complete journey and they make sure that the treatment is heading in the right direction.


SMILEIE aligners are crafted from smooth, BPA-free plastic, guaranteeing a comfortable experience while using them. Additionally, they are removable, which means you can enjoy your favorite foods and drinks without limitations, unlike traditional braces. SMILEIE also provides 2 free sets of retainers to keep your newly aligned teeth in place and ensure they remain perfect for an extended period and also provide free teeth whitening kit.
The best part of Smileie is they offer free refinement with the package whereas other companies charge $300 - $400, but the good part is that my treatment did not required refinement.
In conclusion, if you desire a perfect smile, SMILEIE is the ultimate solution. It guarantees a confident and dazzling smile that will make you feel invincible.